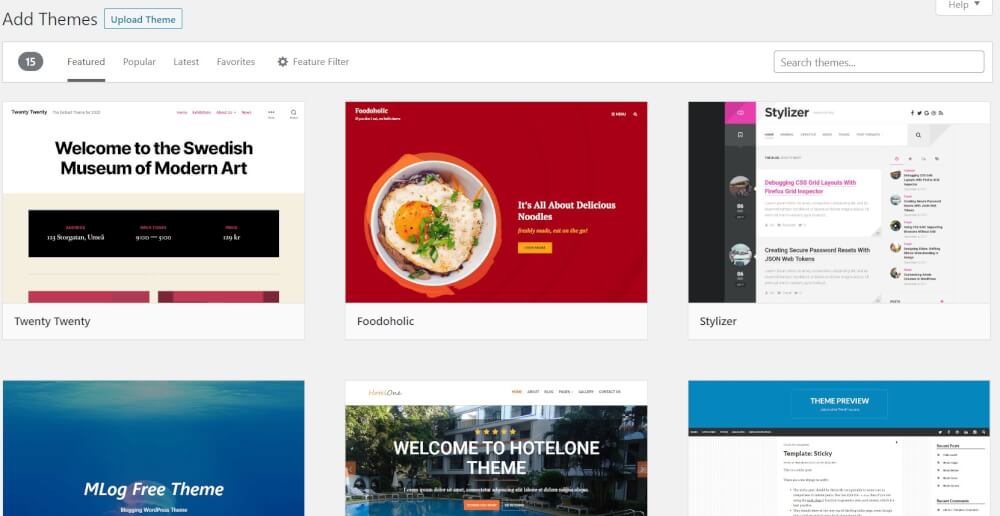 WordPress is a Content Management System, but what can you do with it? And how do the first steps work with the WordPress CMS? We will explain that in this blog post.
A Content Management System is nothing more per definition than a way to manage the content of a website without having to code unnecessarily or having further technical knowledge. This allows you to have other personnel working on the website in addition to the technical people.
WordPress started out as a way to easily start a blog. For that purpose WordPress is by far the most popular way to start a blog. And it has also become a way to create portfolio websites, company websites and even complete webshops with the WooCommerce plugin. So WordPress has grown from its humble beginnings as a blogging software, to a complete system that now powers a large part of the world's websites. Let's take a look at what is possible with WordPress hosting.
Installing WordPress, in a jiffy
Like every website you have to start somewhere, for many people this can be quite a challenge the first time. And when you see all those new terms you might think it is too difficult. Nothing is less true. With our Web App Gallery you can install WordPress in no time, just fill in your details and press install! And if you want to be guided step by step we have a tutorial available that will walk you through each step with screenshots.
Once WordPress has finished installing you will be taken straight to the Dashboard. This is where 99% of the work on the website will take place. Here you can create new pages, write new blog posts, install Themes and Plugins. Just to give a few examples. There is however almost everything you can manage on your website.
If you still can't manage it, you can always contact our online chat for some tips, and if you want to outsource this to us, we will install WordPress for you for a small fee.
The most beautiful WordPress websites made in a flash with themes
A major advantage of creating a website in WordPress is the huge amount of themes available. Themes are an easy way to change the entire layout and design of your website in a flash. With a kind of store within WordPress you can easily download and install a theme on your website. This is a matter of pressing three times on a button to get it done. And then certain elements can also be changed in a visual way. So you don't have to see any code for that either. This makes it a lot more user friendly for beginners than many other Content Management Systems.
Always do your homework before you choose a theme, because it will affect almost every aspect of the performance of your website. A wrong theme can cause a security risk, impact your performance on search engines and the speed of your website. That is why we advise you to try out a number of themes first, for example on a temporary subdomain. And also read reviews from different users to determine which theme is most suitable for you. At the time of writing we can recommend two themes to use. Namely, the Astra theme and GeneratePress. Both themes are extremely lightweight, and can be used for a wide variety of purposes. From creating a blog to creating a corporate website with minimal input.
Useful plugins to add functionality to your WordPress site
Plugins allow you to add a lot of functionality to a WordPress website, most Plugins can be labeled optional. But there are also a few that can be considered indispensable. To get the most out of your website, we recommend a number of fixed plugins that have all been reliably and personally tested by the team at MijnPartnerGroep.nl at the time of writing. Plugins are also easily installed through your WordPress dashboard. Just make sure you have enabled write permissions for your WordPress hosting.
With the following plugins you can be sure that you are adding useful functionality to your WordPress website:
With the SEO Framework you receive useful guidelines for Search Engine Optimization without distractions. Better in our opinion than Yoast SEO, the SEO Framework gives you the extra control on for example the Meta Title and Description. In other words, how your website appears in search results. And the SEO Framework does this without being "bloated" and intruding on the rest of your website.
WP Mail SMTP ensures that your messages are sent via the website with SMTP authentication. This will drastically reduce SPAM on your mail addresses and make sure that mail on your WordPress site is more secure than without. SMTP authentication is an item that MijnHostingPartner.nl requires when sending mail on the website. And that is why this plugin is indispensable.
Autoptimize or Fast Velocity Mimify
With a caching plugin you can make sure your website will load faster on all devices. It will convert your most used resources or pages into static HTML. This will be faster to load on most devices. Especially for mobile devices. By installing it and filtering the options you can make sure your website will load better. And faster.
This is not a fix all plugin, but keep in mind the standards for working on the web. Like not uploading raw images in 4k. Especially on mobile networks this is not always easy to load. And causes delays.
The reason we recommend these two caching plugins is because both caching plugins offer good results. We do recommend you to test them both and see which one offers the best results for your website.
Daily work and where the greatest strength of WordPress lies
In our opinion, where WordPress really comes into its own is in the daily work in your website. It is extremely easy to write and publish content in a WordPress website. Users without any experience can quickly work with it without a big learning curve. With the "new" content editor that came out a couple of years ago, WordPress veterans may not always be happy with it. But new users will be able to use it quickly and without any problems. Writing content is a daily activity for many websites and companies and therefore an important part of any website.
With the content editor of WordPress you can quickly get started and see what your page will look like in a visual way. And when you need more control you can also view the old trusted HTML of some pages. The best of both worlds.
Do you also want to get started with your WordPress website? Then MijnHostingPartner.nl is the place for you! We have two options available for hosting WordPress websites. Our Managed WordPress hosting packages, where we also take care of the technical issues with automatic updates and backups. And our SSD hosting packages where you are more free to do as you wish. And therefore you are also responsible for maintaining the WordPress website.
Order your WordPress package now to get started right away!