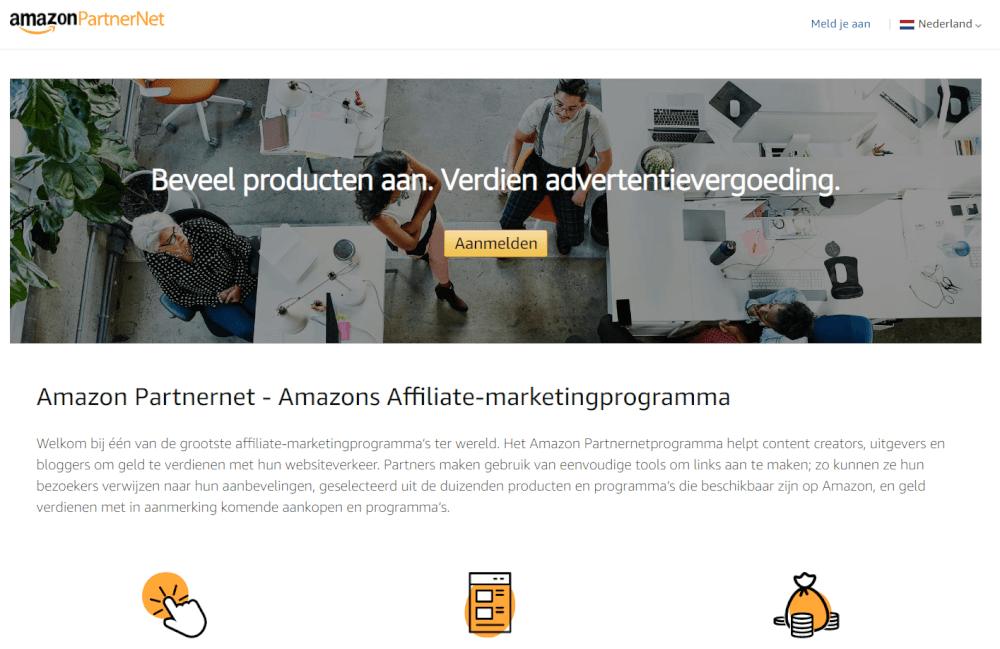 You may have heard of affiliate marketing, but did you know that there are also websites that deal purely with affiliate marketing? These are the so-called affiliate niche websites. Let us explain how this website works and what exactly is their revenue model.
Monetizing a website can be done in many different ways. There is the option of selling something directly. Think of a product or service that you offer to customers. And also, a big driving force behind websites is the various advertisements that are displayed. This can be from well-known ad networks like Google AdSense. Lesser known ad networks like Ezoic or a Dutch advertiser or through a direct ad placement.
Besides direct sales, there is also the possibility of affiliate marketing on a website. This is mainly in the form of interesting media or blog posts. Where you recommend a product through a link. When visitors go from your website to the landing page and make a purchase or leave an email address. There may be a commission for this. This varies from small percentages to larger bonuses the more you bring in. Let's dive into how this works and what techniques are used.
An affiliate website, how do they work?
An affiliate website can be set up using any technique. In fact, any website can be used to create an affiliate website. This is because there are generally no conditions or rules for displaying affiliate links on your website. However, there are techniques such as using a content management system. This makes it easier for you to do a number of things.
An affiliate website usually has 1 thing in common. And that is that it must have rock solid content that encourages readers to buy. Write an article in 5 minutes, insert a link and find it done. Isn't enough in this day and age. There are >50 competitors writing about the same thing with more effort, more expertise and more manpower. Since affiliate websites mainly use 1 traffic source. Namely the organic search engine results.
For many affiliate websites, it is not practical to use advertising to generate traffic. This is because there is even less certainty of purchase than, say, a web store. In addition to organic traffic, affiliate marketers also make massive use of social media to spread the word about their posts. Sites like Pinterest, Facebook, Twitter, and Instagram are all options for driving people to your website.
Most simple affiliate websites like a blog are created using the WordPress content management system. Of course, you can also go to MijnHostingPartner.nl hosting for a managed WordPress hosting package.
Once visitors to your website click on a link to go to the landing page, in almost all cases there is a cookie attached to that link. This cookie lives for 24 hours, or even 30 days or longer for some affiliate networks or providers. Once the visitor has clicked on a link and visited the website, the cookie's timer runs. Therefore, it is important that your website content gives the visitor a sense of urgency or urge to get there quickly. This will ensure that you have a better chance of earning that commission.
Cookie duration varies per affiliate vendor, with large vendors like Amazon having 24 hours. Other smaller parties often have much longer. However, if the purchase is not made shortly after the visit, there is a chance that the cookie will expire or be deleted.
Finding providers from an affiliate network
In order to find vendors from an affiliate network to promote on your website, it's important to determine where your customers are located. From there, you can find out what the most popular vendor is for those products. And then you can sign up your website for that particular affiliate network. This sometimes comes with some pitfalls. And you can also get rejected by an affiliate network if your website is not qualified in the eyes of the company. With some companies, there are also traffic requirements that your website must meet. For example, more than 5000 visitors organic traffic per month.
So always check with the affiliate program before you apply. Sometimes a rejection can have a demotivating effect. And that's why it's better to postpone it until you meet the requirements better.
Affiliate program of MijnHostingPartner.nl
With hosting from MijnHostingPartner.nl we also have an affiliate program, once you let people in through your affiliate link at MijnHostingPartner.nl we have a nice bonus in return. In the form of affiliate points. Here you can save coupons and other extras and even discounts on invoices.
Sign up easily for the affiliate program by starting this via the dashboard in the customer panel.