FTP verbinding maken - CyberDuck
In dit artikel wordt duidelijk gemaakt hoe je een FTP connectie kunt opzetten aan de hand van CyberDuck. Hoe je een FTP account aanmaakt kun je hier inzien:
https://www.mijnhostingpartner.nl/client/knowledgebase/22/Hoe-maak-ik-een-nieuw-ftp-account-aan.html
De instellingen die vereist zijn voor CyberDuck: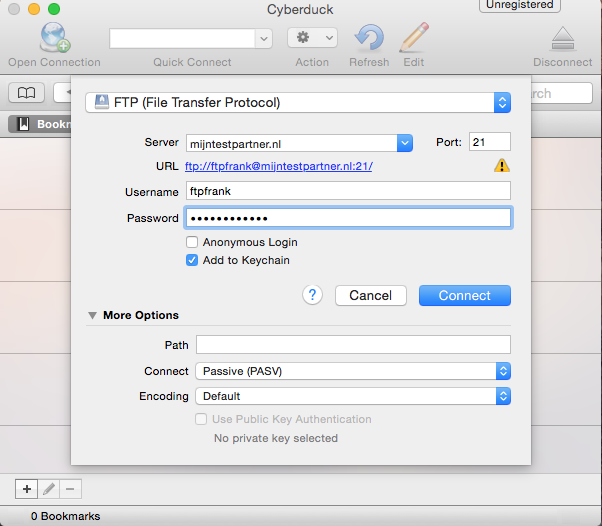 Waar server jouw domein naam is.
Poort 21
En vervolgens jouw FTP account en wachtwoord.
Controleer als laatst onder More Options of de connect modus Passief is.
Hierna kun je verbinding maken, de prompt die tevoorschijn komt kun je aanvinken als niet meer laten zien. Hierna druk je op Continue.
De verbinding is hierna tot stand gebracht.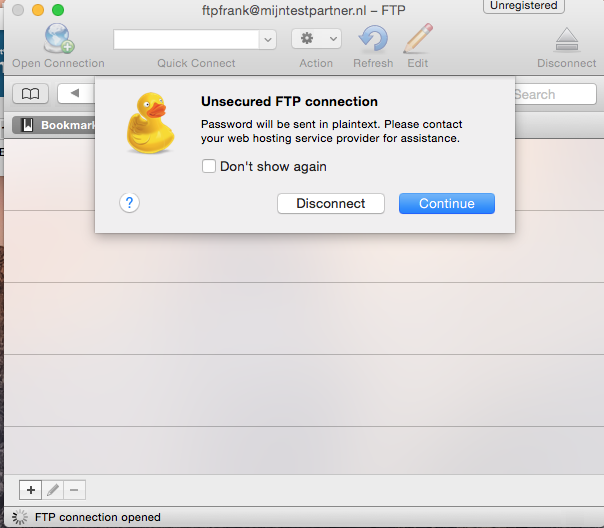 Mocht je nog verder vragen hebben dan kun je altijd kijken of er iemand op de online chat aanwezig is.
Of je kunt hiervoor een ticket aanmaken in het klantenpanel.
Keywords: cuberduck cyber duck cyberduck ftp connecte account verbinding bestanden